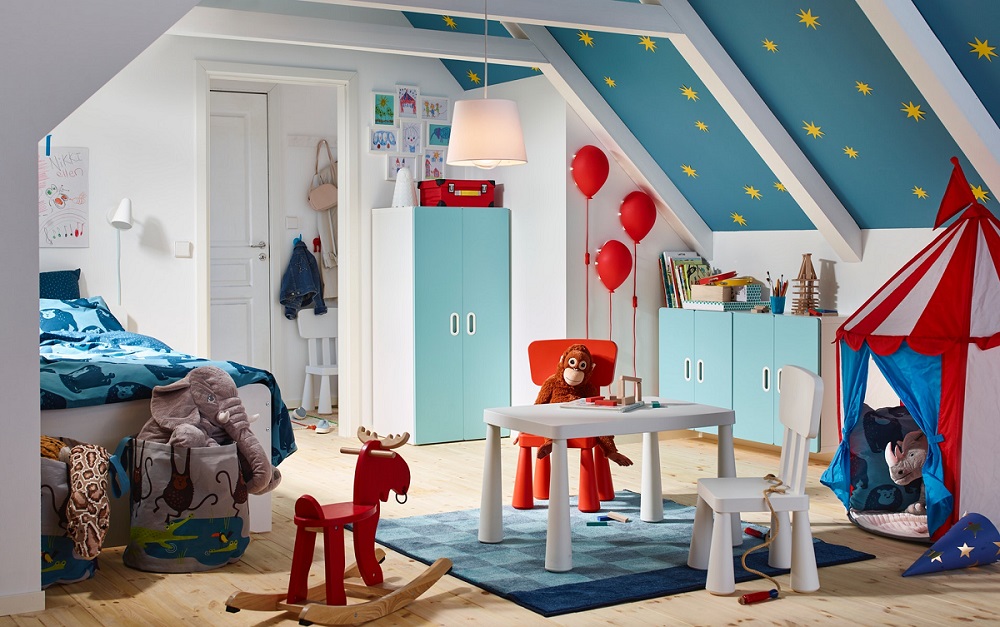 A Children's room should be a place that is comfortable, and makes the child feel safe. If you have a problem with a child who doesn't want to sleep in his own room, how about trying to decorate a Children's room to make the room more attractive for children to live in?
By providing a little decoration, or remodeling a child's bedroom a little, you can make the room feel much more comfortable to live in. Try adding some ornaments which will be explained in this article.
You can really decorate a Children's room without making your wallet wince. Come on, let's see together with the decoration ideas.
Kids Room Decoration with Table Lamp
Try decorating the table with a moon lamp, star motif, or something similar. This motif lamp can be the first idea for you to try. Decorative table lamps can make children's feel more comfortable, especially when turned on at night.
Character Wall Sticker
Surely you are familiar with this one idea, right? Yes, the idea this time is a character wall sticker. Not only cartoons, you can try various other similar stickers such as those with animal, plant motifs, and many more. You can also adjust it to the interests of the Children's.
Cute Sleeping Lamp as a Kids Room Decoration
Using a common patterned sleep lamp would be very boring. Try this unique motif, you can choose a night lamp with animal motifs, for example. Besides being funny and interesting, animal motifs are also much loved by children's. So, it will surely attract their attention.
Displays so Walls Are Not Plain
Do you feel that the walls of the children's room are very plain? Try giving a little colorful display as a wall decoration. You can try installing paintings, or other wall display models that can make the child's room feel more comfortable.
A Bright Folding Table to Make the Room More Colorful
A room that is too plain will feel lifeless. You can try adding a children's folding table to the room to make the room look more crowded. You can try using attractive colors like red, yellow, green, or blue.
In addition, folding tables can also be used for children to study and read books. When you're done using it, you can leave the table in that condition, or fold it back and tuck it in a corner of the room.
Cute Motive Play Tent
Not only for decoration, the play tent will definitely attract children's attention to play in it. However, play tents require more space. If the child's room has enough space to place a tent, you can try this one idea.
Child Chairs for More Comfort
Chairs with animal character motifs will be very interesting to put in a Children's room. Apart from that, you can also put this kind of chair in the children's room where they can relax. Not only that, they can also use the chair as a place to read story books, and even play.
Safe Play Mat
To make the floor look more colorful, you can add a play mat to the child's room. Not only serves as a decoration, the mattress also helps so that children's do not get cold when they have to sit on the floor, and minimize injuries to children when they run and accidentally fall.